Hybrid Local/Cloud Backup: The Best of Both Worlds
Cloud storage offers an ideal solution for off-site data protection, but presents a challenge when it comes to recovery and access time when compared with local disk-based backup. CTERA's hybrid approach combines the best of both worlds by performing dual backup: To a local appliance and to the cloud - in single, efficient solution.
(click image to play)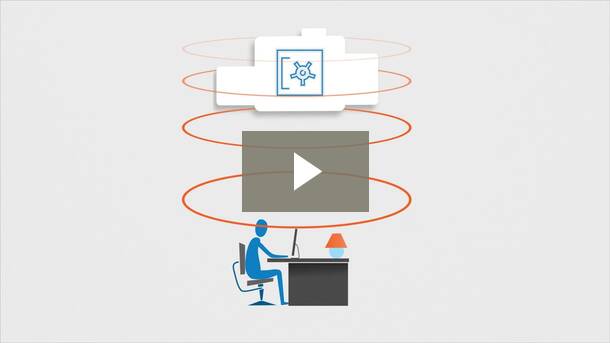 Hardware and software combined
CTERA's cloud storage gateway appliances provide both clientless and built-in agent-based backup, allowing you to protect servers, desktops and laptops. The appliances de-duplicate, compress and encrypt all backups before they are sent to the cloud and offer bandwidth throttling options, making this a highly optimized and secure backup solution.
For roaming users, CTERA's Cloud Agent provides direct-to-cloud end-point backup and recovery, including de-duplication and bandwidth control.
The appliances and agents can be used in tandem to provide optimized coverage for sites with multiple users as well as single roaming users.
Comprehensive Data Protection
CTERA's backup solution covers multiple platforms, use cases and end-point devices, including:
Lightweight CTERA Agent supports laptops and servers
File-level backup on rule-based file sets and/or specific folders
"Bare metal" (disk image) backup
Both clientless and agent-based local backup
Support for Windows workstations and server, Linux and Mac platforms
Support for Microsoft Exchange, SQL Server, SharePoint and Active Directory
Single Exchange mailbox recovery option
Microsoft Hyper-V VSS backup and restore
Thin-provisioned automated snapshots for versioning, with administrator-controlled retention policy, both locally and in the cloud
All backups are incremental (only changed blocks sent) after the initial backup
Offline seeding capability for large initial cloud backups
Layered data protection: Backup is performed both locally and to the cloud, providing you with an extra layer of protection for disaster recovery and fast restore from the local appliance.
Non-intrusive cloud backup: The CTERA cloud storage gateway appliances aggregate backups from multiple desktops, laptops and servers at your location, de-duplicate the data and send it to the cloud in an optimized, bandwidth controlled stream that keeps your Internet connection clear. Multiple appliances and CTERA Agents can be defined to de-duplicate against each other globally, further reducing WAN load in multi-site environments.
Comprehensive solution: Protect laptops, desktops and servers at both file- and disk-level ("bare metal") with a single, easy-to-manage solution. Microsoft Windows, Linux and Mac platforms supported.
Fast, Tiered recovery: Rapidly restore files or entire disk images fast from the local appliance, and use cloud recovery only in cases where the local backup is inaccessible.
Reduced IT administration overhead: CTERA's user-friendly software and Windows shell integration means that end-users can perform simple operations such as single file recovery and restoring previous versions themselves, with no need to call the IT helpdesk.
Predictable cost: You determine what and how much is backed up to the cloud, giving you complete control over cloud storage costs.
End-to-end security: Both CTERA appliances and CTERA Agents encrypt all files before they are sent to the cloud using strong AES 256-bit encryption, and you can choose a personal passphrase known only to you to access those files. For more details on CTERA's security measures click here.
Choice of Cloud & Object Storage Backends
CTERA Portal supports multiple object storage vendors and cloud storage services, allowing for both private and public cloud deployments. For a list of supported platforms and services
click here
.
Hybrid Backup & Recovery